Finding a brisket for sale can be really tough in some parts of the country.   A lot of regions just grind the brisket for hamburger meat.  In some regions you can only find trimmed down three pound brisket flats.  If you are searching for briskets in your area and are coming up empty then let me point you to a few great sources.
Prime Briskets at Costco
I am fortunate to have a Costco in town and they are an excellent place to purchase briskets.  My local store stocks Prime Grade whole packer briskets in the 12-16 pound range.
I love getting briskets at Costco because they sell Prime briskets for less than the other stores in town charge for Choice and Select briskets.  If you are unfamiliar with the different grades of beef then "Select" is the lowest grade, "Choice" is in the middle and "Prime" is the best.  These ratings are made by the USDA and reflect how much marbling is in the meat.  The amount of marbling impacts tenderness and flavor.
The Costco briskets are still sealed in Cryovac so they are perfect for wet aging if you have the patience to go that route.
If you have a Costco in your town and have been on the fence about whether to join or not I can tell you that the briskets alone are worth the cost of membership.
Briskets From Snake River Farms
Here is where things get serious with briskets!  Snake River Farms is where many of the top competition barbecue teams get their briskets and these things are amazing.
To understand what makes the Snake River Farms special we have to go back to the USDA beef grading system:
Select (Lowest)

Choice (Middle)

Prime (Best)
These gradings are based on marbling which the USDA quantifies as the Intramuscular Fat Percentage (IMF%).  A USDA grade of Prime means the beef has an IMF of 8-11%.
However, there are certain breeds of Japanese cattle with an IMF% that far exceeds the USDA grade of Prime.  These cattle (Kobe/Waygu) are graded on the Japanese Beef Marble Score (BMS) on a scale of 3-12.
The lowest grade of beef on the BMS scale, BMS 3, has to have marbling that is equivalent to an IMF of 21%.  That is TWICE as high as required for USDA Prime!
Snake River Farms has access to these briskets and they are the key to competition barbecue teams winning tens of thousands of dollars.  Snake River Farms has two grades of Wagyu Briskets available, Black and Gold.
Both the Black and Gold grades are wet aged for a minimum of 21 days.
I am not going to kid you, the Wagyu briskets are NOT cheap but if you want to try something amazing then they are worth splurging on.
If you don't have the budget for Wagyu briskets then SNF also has a selection of Choice and Prime briskets that are more affordable.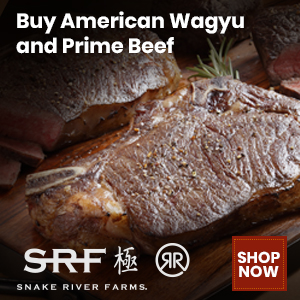 Briskets from Porter Road
Porter Road is a different kind of meat company.
Porter Road is run by two guys in Nashville who started the company after they could not find a reliable supply of high quality meats for their restaurants.
The Porter Road definition of "high quality meat" is different from most people. Porter Road only buys cattle from local farmers in Tennessee and Kentucky who raise the stock on open pastures and not in feedlots.  The butcher's at Porter Road know every farmer by name and visit their farms to check on the animals.  These animals are raised humanely and the business models supports small family farms instead of industrial corporate agriculture.


The briskets come from red and black Angus which would typically grade out at the high end of Choice or low end of Prime.  These briskets have not been formally graded by a USDA inspector.  Porter Road process the animals themselves and only work with a few animals per week.  They are such a small scale operation that it wouldn't make sense to have an official USDA inspector come on site to grade a single steer.
Like I said, Porter Road is a different kind of meat company.
When I buy from Porter Road the shipping from Nashville to Baton Rouge has only cost me $5.  I have always loved the steaks and sausages I get from these guys and it makes me happy to do business with them and support small farms.
Here is the link to buy a brisket from Porter Road.
Brisket Buying Tips
Sometimes you can find whole briskets at Sam's Wal Mart, HEB, etc.  Here are a few tips to help you buy the best one if you are in a situation where you can see the brisket before you buy it.
Choice or Better
I stay away from Select grade briskets and stick with Choice and Prime.  A brisket is a huge chunk of meat and the difference between the grades is really noticeable.  Smoking a brisket is challenging enough on its own.  Why make it harder by starting with a low grade cut of beef?
Certified Angus Beef
Certified Angus Beef (CAB) is brand of beef and not an official USDA grade of beef.  That being said, CAB is pretty dang good and is usually at the high end of Choice or the low end of Prime.  If you are looking at a case full of briskets and one of them is CAB then grabbing that one would be a good idea.
Grass Fed Beef
There are several places to buy grass fed beef but I haven't found one that sells a full packer brisket.  If you want a grass fed packer then the closest I have been able to find are the pasture raised briskets from Porter Road.  I can't promise you that those cows have never eaten corn but I can promise that they were not finished off on a corn based feedlot.
12-15 Pounds
Most folks should stay away from briskets that weigh over 15 pounds.  A brisket that size is usually bigger than the space available on most smokers.  Additionally, a brisket that size is going to take an incredibly long time to cook and most folks will give up and end up eating a tough brisket rather than taking the time to smoke them properly.
A whole packer brisket under 12 pounds isn't going to have a very large flat and I always found they cooked up funny.